Title: Radiohammer
Genre: Rhythm / Fighting
Platform: Nintendo eShop on Nintendo 3DS™
Release Date: Fall 2015
Publisher: Aksys Games
Developer: Arc System Works / Vinyl Lab
http://aksysgames.com/radiohammer/
Drop the Beat on the Bad Guys!
Aksys Games with Arc System Works and Vinyl Lab proudly announce that Radiohammer is available in North America today for the Nintendo eShop on the Nintendo 3DS hand-held system! Play as the world's most famous super DJs and protect the peace with the power of love and music! Drop the beat on the bad guys as you shuck and jive your way through hordes of the morally maligned!
Check out the official site for more!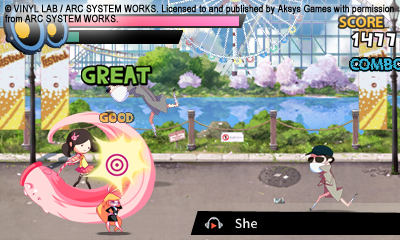 Solving world problems one hammer swing at a time!
Trouble always seems to follow the three DJ's. With the help of their manager and their trusty hammer they fight the villans.Keep an eye out for the big bosses at the end of each episode.Stay alert or you'll get hammered by their fierce attacks. More than 50 groovy tunes to choose from while you fight of the villans.  
Epic amounts of Gameplay!

Track Play –
Allows you to play your favorite songs
Random Play-
stages are chosen without rhyme or reason.
Juke Box-
for those who just want to listen to the music.
Otherworld Mode-
where game speed if much faster with more intensity.

Characters
The youngest of the Radiohammer DJs. Known for her eloquence, epic cuteness, and love of all things pop! She'll pummel perverts into mulch with the power of CUTE!   Programming Director of the pirate radio station "Radiohammer". He's all about business and doesn't tolerate any kind of static. Despite his youth, his appearance intimidates and the toughest of foes.   Known for her insane 6-string skills. Nothing, be they man, woman, or zombie, can stand against her epic solos!      
Radiohammer has been rated T by the Entertainment Software Ratings Board (ESRB). For more information, visit www.esrb.org.