The Game Awards 2015 has announced Guilty Gear Xrd as a nominee for Best Fighting Game. Nominees Here. For information on how to watch the awards live please visit here http://thegameawards.com/watch-live/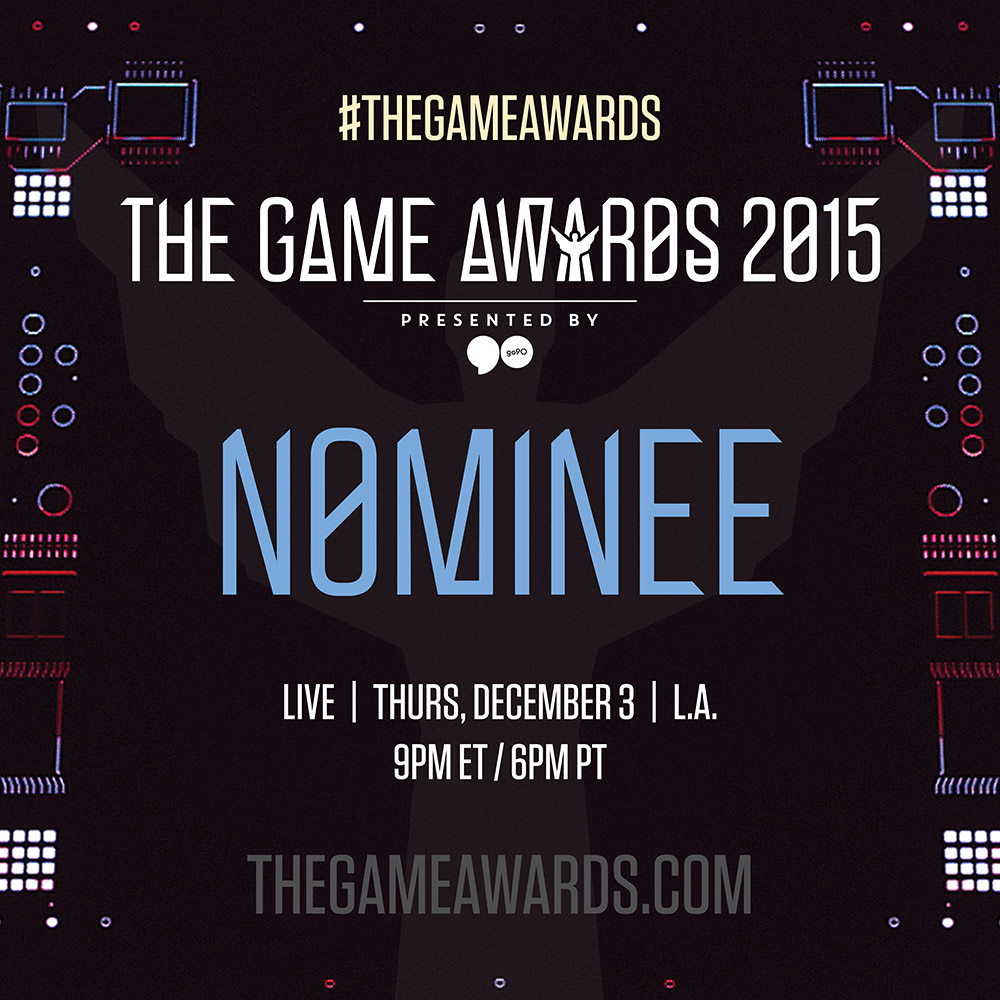 Watch Promo Video for the Game Awards Here
Watch Trailer for Guilty Gear -Sign- Here
Here is the official press release for the event:

THE GAME AWARDS 2015 VIDEO GAMING'S BIGGEST NIGHT, TO AIR LIVE ON GAMING SCREENS AROUND THE WORLD ON THURSDAY, DECEMBER 3
Producer Geoff Keighley's Groundbreaking Live Digital Tentpole to Feature World Premiere Game Trailers, Game-Inspired Musical Performances and Award Presentations from the Game Industry's Biggest Names
Go90™ Users to See Exclusive Content, plus Viewers on PlayStation Network, Steam and Xbox Live will Receive Special Game Discounts Alongside Live Stream 
The Game Awards 2015 Airs Live from Los Angeles on
Thursday, December 3 at 9 PM ET / 6 PM PT
 Los Angeles—November 9, 2015— The Game Awards will air its 2015 show as a global livestream on December 3, honoring the video game industry's best games and players.
Presented by go90, a mobile-first social entertainment platform and produced by Geoff Keighley, The Game Awards 2015 will unite game industry creators, influencers and eSports champions for a night of awards, exclusive game premieres, and major music performances.
The Game Awards will stream free around the world via a range of partners, including go90, YouTube, Twitch, Steam, PlayStation Network, Xbox Live and TheGameAwards.com. Fans who watch on go90 will see additional exclusive shoulder programming and content before and after the show. Xbox Live, Steam, and PlayStation Network will each offer special Game Awards Sales, unlocking offers for gamers to buy select digital games at a discount around the show.
"2015 has been a blockbuster year for gaming, and now, with the help of go90, we are going to take The Game Awards to the next level," said Keighley. "This year we plan to put fans at the center of the show – and give them special opportunities to interact with us by using their gaming consoles, mobile devices and computers." More details on interactivity will be announced in the coming weeks.
The Game Awards 2014 featured appearances by Kiefer Sutherland, Conan O'Brien, South Park co-creator Trey Parker, and a marquee performance by Imagine Dragons. The show also revealed world premieres of The Legend of Zelda and Metal Gear Solid V: Online.
Last year's inaugural Game Awards was streamed almost 2 million times in three hours, and generated more than 500 million social media impressions on Twitter.
The Game Awards is backed by an advisory board that includes:
Activision (Eric Hirshberg, CEO), Electronic Arts (Peter Moore, COO), Hideo Kojima, Microsoft Xbox (Phil Spencer, Head of Xbox), Nintendo of America (Reggie Fils-Aime, President), Rockstar Games, Sony Computer Entertainment America (Shawn Layden, CEO), Telltale Games (Steve Allison, SVP Publishing), Ubisoft (Yves Guillemot, CEO), Valve and Warner Bros. Interactive Entertainment (David Haddad, President).
Fans will be able to purchase tickets to attend The Game Awards 2015 starting on Thursday, November 12.
About GameSlice Over the past two decades Geoff Keighley has established himself as one of the leading media figures, live event producers and on-camera personalities in the video game industry. Keighley's GameSlice production company is responsible for the largest live video game programming of the year including The Game Awards, YouTube's live coverage of the E3 expo, and special events such as the theatrical production The Last of Us: One Night Only and PlayStation's E3 Experience in movie theaters nationwide. GameSlice's goal is to chronicle, celebrate and cement gaming as the leading form of entertainment.
About go90 go90 is a free, mobile-first, social entertainment platform that makes it easy and fun to discover, enjoy and share great content. Available on iOS and Android, go90 is part of the Verizon Communications family of companies. Built for the next generation, go90 brings together networks, distributors, creators, audiences and brands to deliver great experiences for the next generation.
For more information visit www.thegameawards.com or follow www.twitter.com/thegameawards
Press Contact
Patrick Flanary Patrick@high10media.com