I have some games I wish to see released will you please take them into consideration.
1. Glass Heart Princess
The protagonist is beautiful, smart, and good at sports. She is the perfect daughter of a respected family. However, she is suddenly stricken with a bizarre disease called "Glass Heart Syndrome". If her heart rate rises above normal, she will die. The only cure is to train her heart by experiencing heart-pounding situations through dating!
2. School Wars
Ichijou Shiori's father is died in a car accident and her mother is sick and hospitalized. Being tight on funds, Shiori was rejected from her high school because she couldn't afford to pay for it. However luck came her way and she got a scholarship to Seiron Academy and became the chairman of the public morals committee in her 3rd year. On top of this her mother was allowed to transfer to a fancy hospital for better treatment. Unfortunately there's a catch which is to take military training and uphold the peace now that Seiron Academy and the wealthy Suzushiro Academy have merged. The students are at war with each other ever since 3 years earlier, Suzushiro burned down one of Seiron's school buildings and now it's happened again. The student council president lures her into finding out the criminal behind it and desperate for money she agrees. However, she quickly learns the best way to win is to SLEEP with the enemy. Too bad for Shiori, she's spent so much of her life trying to survive, that she's a tad behind in the romance department.
3. Amnesia
On one fateful day, August 1, the heroine lost all her memories. In order to gain them back and to ease her pain in remembering, she tries to interact with 'him' hoping to live each day as happily as she can, and to make a bright future with him...
4. Diabolik Lovers
Komori Yui is a positive-thinking girl who nevertheless is troubled by seeing spirits and experiencing poltergeist phenomena. In her second year in high school, she transfers to a new school—a night school for entertainers and celebrities—due to her father's work. There are rumours that vampires exist among the student body, and Yui ends up living with the six sadistic Sakamaki vampire brothers.
5.Sangoku Rensenki - Otome no Heihou!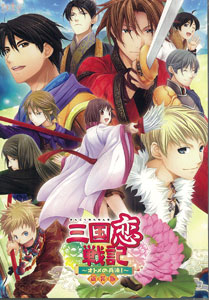 Yamada Hana, a high school girl, woke up and found herself in a strange land after being enveloped by a bright light that came out from a mysterious book. There, Hana met a young man named Gentoku, and ended up staying with him and his army as "Koumei's disciple"
6. Eikoku Tantei Mysteria
When you walk the streets at night in Victorian London, you'll have to beware. Hiding in the fog might be the son of the mysterious thief Lupin, or Jack the Ripper. But don't worry, you have allies too. In the romance adventure you can enlist the help of Sherlock Holmes and Watson juniors, and find your soul mate among the famous men of the era.
The player become Emily, the daughter of an earl. Her parents have been murdered mysteriously, and finding the truth became her life's goal. With the detectives, she'll solve cases one by one, and as the story progress, she'll unlock secrets and romantic scenarios with the boys. There are sweet endings and shocking endings, see how your decisions affect your story.
7. Natsuzora no monologue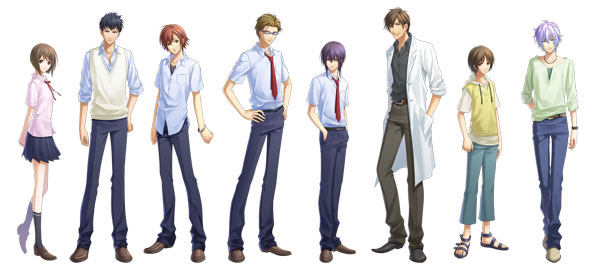 In a small village near the sea, a lad named Aoi Ogawa lives in relative obscurity. Every day seems like the same old routine until an event one fateful day changes everything. The date is July 29 and Aoi and friends find themselves caught in a time loop where the same day and events repeat themselves ad infinitum. Can Aoi break free from the loop and get on with his life?
8. Hatsu Kare Renai Debut Sengen
A wallflower high school junior Yui Shinomiya in her quest to make something of her second year of school.
9. Kamigami no Asobi
The heroine, Kusanagi Yui, is a normal high school girl approaching graduation, and is starting to get worried about her future. She's a little more traditional than most other girls due to her upbringing at a shrine. She is chosen as the one human to attend a school for gods who have grown distant from humans. She's now responsible to teach gods about being human, and about love.
10. Princess Arthur
Princess Arthur follows a young lady who, you might have guessed, fulfills a prophecy by retrieving a magical sword once ensnared in stone. Far from your typical game based on Arthurian legend, this tale of gender reversal seems to shake up the character dynamics considerably, making for a decidedly more romantic experience
11. Toki no Kizuna
The world's inhabited by a race called the oni who are stronger than humans but otherwise are pretty much human. The heroine is an oni who's all for protecting her oni. Cuz we humans are -your mother is a classy lady- pussies and must destroy and hate everything stronger than us, we hate the oni and fear them. So, the oni hide from humans. But the oni get sucked into petty human affairs.
12. The Black Wolves Saga
The protagonist, Fiona lived in a secluded tower due to her fragile health. There is turmoil in the country and a severe disease outbreak known as Zodiva or "Mad Wolf Disease". Mejojo was interested in Fiona due to her upbringing and wanted to take her as his bride, but Fiona's father refused. There are now rumours in town saying Fiona is a witch- Mejojo and Auger uses this to their advantage and arrest her, so that they can "observe" her while she lives in the castle. Eventually, Fiona's half-brother (Nesso) and butler (Zara) rescue her and they escape together.
The emphasis of the story is on a dark/historical/political fantasy where humans, wolves, cats and other animals are being ruled by two very crafty feline tyrants.Due to various oppressions the cat twins faced in their childhood including assassination attempts, they learned how to survive and gain power- but they were also driven towards insanity. There is nothing they won't do to get what they want.