Something Scary is Lurking in the Woods… and it Needs Your Help!
Aksys Games is excited to announce that Ghost Parade, a side-scrolling action adventure game developed by Lentera Studios, will be coming out for the PlayStation®4 system in Fall 2019.
Ghost Parade follows the adventures of Suri, a young girl who gets lost in a mysterious forest on her way home from school. What starts out as one girl's quest to get home on time soon becomes a ght to save the forest and its myriad supernatural inhabitants from shortsighted humans trying to level the forest for prot. Now it's up to Suri and her newfound ghostly allies to save their home from the true monster—man.
Ghost of a Chance – It's dangerous to go alone! But, with 30 available ghost companions, you won't have to. Players can interact with up to 70 helpful spirits over the course of their adventures.
A Brave New World – Go beyond the known and dive into a fully realized world based on Indonesian mythology and folklore.
A Feast for the Eyes – Ghost Parade features beautiful art direction and thoughtful, original character designs, offering visuals as complex and dynamic as the story itself.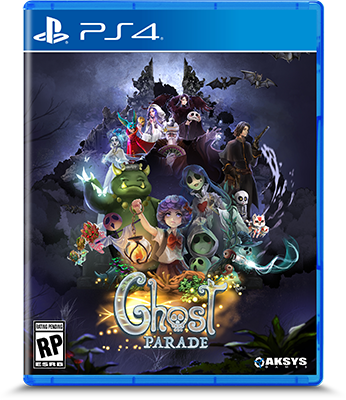 System: PlayStation®4
---
Players: 1
---
Genre: Side-scrolling Adventure
---
Rating: Rating Pending
---
Developer: Lentera Nusantara Studio Corporation
---
Publisher: Aksys Games
---
Release Date: Fall 2019
©2019 Ghost Parade Game is owned by Lentera Nusantara Studio Corporation. All Rights Reserved. Licensed to and published by Aksys Games.